Course details
2 famous beach cooked sashimi and sashimi assortment, seafood admiration 2 H with all you can drink ★ "Hamamaki DX course" 4500 ⇒ 4000 yen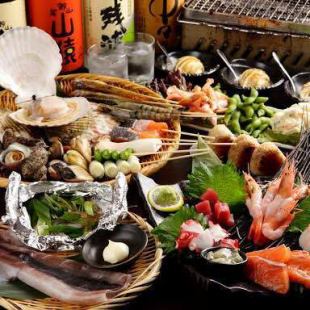 By using a coupon4000 yen
Tax not included
All-you-can-drink available

With +100 yen you can drink wine cocktails and limited drinks such as Kalimocho.
Available days for reservation

Monday - Sunday - Public holidays - Holidays
"Hama-yaki DX course" that you can enjoy famous bean-grilling.120 minutes with unlimited drinks, usually provided at 4500 yen ⇒ 4000 yen ♪
Course menu
Introducing an example of frequent menu
We will deliver it according to your request ♪
◆ Appetizers
Crime stemmed cartilage plum quartz
◆ fried food
Fried ♪ authentic sweet fried shrimp deep fried
◆ Salad
Quantity limited !! Potato salad with hot peppers
◆ Sake Assortment
◆ Skewers
Seasonal seafood skewers platter
I will hope for you with grilled or kushikadotsu ♪
◆ Main fish dishes
Seasonal fish of the day that day
Baked or fried, etc. __
◆ 2 famous beach grilling
◆ shellfish such as scallop and scallops
◆ Recommended fish such as squid, that day
◆ Mini rice
Seafood bowl or ochazuke
I would like to request ♪
All you can drink at + 500 yen!
Please do not hesitate to contact us.
Telephone number → 06-6131-0610
If you are looking for a seafood pub in Umeda leave it to Hamaki Taro!
All - you - can - eat all - you - can - eat all - you - can - eat all - you - can - eat all - you - can - eat offer in a space of quality that can not defeat the private room.
In Umeda we will respond to requests such as meat such as kushikatsu as well as seafood.
Prepare a wide variety of pots that do not sink to the pot.
First of all, please do not hesitate to contact Hamamaki Taro Umeda store !!
All-you-can-drink menu
·beer
· Draft beer (mug / glass) / Shandigerf / Red Eye
· Shochu high
· Oolong / green tea / lemon / lime / yuzu / yuzu lemon / lemon lime / yuzu lime / plum / seeker / calpis / lemon calpis / yuzu calpis / lime calpis / mate tea etc.
·Highball
· High Ball / Black High Ball (Coca · Cola) / White High Ball (Canadian Dry Ginger Jar) / Lemon / Yuzu / Sequiercer / Lime / Calpis
· Shochu · Sake
· (Potato) Black Kaiichi / (wheat) Yokaichi / (Japanese sake) Raw (hot / cold) ※ rock · straight · water · hot water · soda
· Koichi wine · Fruit wine
· Garcia · Calion (red · white) / plum wine ※ rock · straight · water · hot water · soda
· Makgeoli
· Makgeolis / Mappiz / Yuzu / Grefur / Lime / Lemon / Sequier / Rust
·Cocktail
· Cassis soda / cassis oolong / cassis green tea / cassis orange / cassis grape / cassis pine / cassis apple / fuzzy navel / peach oolong / peach green tea etc.
·Soft drink
· Coca · Cola / Canada Dry Ginger Ale / Qoo Orange / Qoo Apple / Minute Maid Orange 100% / Glow (Fan) Oolong Tea / Green Tea / Grapefruit / Lemon Squash Other
Miramidō
· Kaoru / Acerola / Yuzu / Plum
Coupons that can be used with this course
2018/12/26 update